UV disinfection
The ultimate necessity in today's time
UV disinfection in the food Industry
Preserving a clean production environment is essential to preventing foodborne illnesses and cross-contamination. If a work surface merely looks clean, it does not necessitate that it is sterile. That is why production facilities must continuously safeguard that they clean and disinfect a work zone before and after production. In many cases standard cleaning methods are not enough, Puremed Canada has put an emphasis using ultraviolet (UV) technology procedures to eliminate pathogens.
Quality Control
Food can become contaminated at any period of production, delivery, and formulation in the food industry. All and along the production chain, from manufacturer to customer, have to be confident that the food we consume does not source illnesses. Sterilizing with UV light can augment a level of protection for you, your workforce, and your clienteles against foodborne diseases.
How Can UV Light Help?
UV light is wrought for a vast diversity of applications in the food industry. With high-performance UV light sources and apparatus, water, air, and surfaces can be unfailingly disinfected. The usage of chemicals can be decreased or even circumvented in an inexpensive and ecologically friendly manner.
On surfaces, for example, conveyor belts, predominantly in the meat and meat handling areas, UV light can be utilized to deliver continuous sanitization in the form of a segment intended to reveal the belt to UV as it moves. The module is watertight and can be amalgamated into the most excellent practices of sanitation. The penetrating germicidal action of UV light acts on microbes on the belt surface, turning them sedentary. This management can decrease the quantity of comprehensive wash-downs mandatory during treating, by this means salvaging resources, for example, water and energy budgets.
In the dairy business, UV disinfection is used mainly for the casing of fresh milk products, for example, yogurt and cheese, required to be kept cold to develop shelf life. This signifies that the dairy processor has meaningfully less revisits of a wasted product.
In baking, mold spores in the handling environment add to momentous waste, plummeting shelf life, and raising expenditure. In most circumstances, the fitting of a UV tunnel over the production line can offer an efficient way out.
How Does UVC Radiation Work?
Ultraviolet is electromagnetic radiation, the portion of the light spectrum that is invisible to humans. The short-waved and dynamic UVC radiation is immersed by particular pieces of the DNA which sources a photochemical alteration. This transformation disturbs the DNA and safeguards that the microorganisms cannot replicate and thereby decrease. Ultraviolet light at wavelengths of 254 nm terminates the DNA of all germs, so viruses, bacteria, yeasts, and fungi are incapacitated within nanoseconds.
UV light brings forth an extra level of defense to make sure that microbes are exterminated everywhere the light drops. This is not an only assurance against zones that might have been overlooked in the course of customary cleaning, but correspondingly for areas that might not be effortlessly sterile with chemicals.
A massive advantage of UV light for sterilization is that it is chemical-free, keeping handlers and customers safe from the possibly detrimental consequences of particular chemicals. Utilize soap and water to wash out dust and dirt from any tops, and then the UV light can sterilize areas all through your facility – everywhere the light traces. It has been confirmed operative at eliminating equal to 99.9% of numerous damaging foodborne pathogens, together with E. Coli, Salmonella, and Norovirus.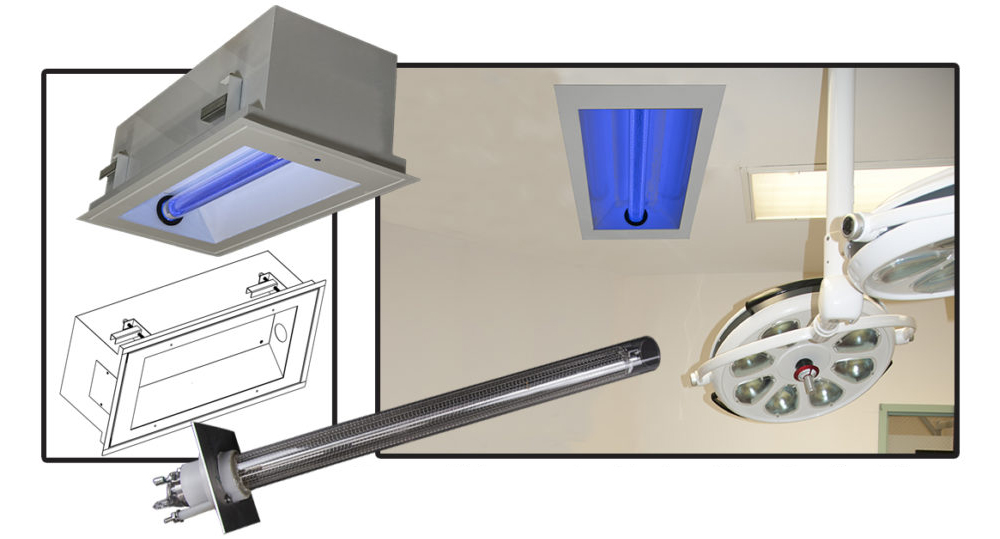 Ceiling Mounted UV
The ceiling support fitting scheme has been prudently considered to deliver nonstop high-level disinfection for air or surfaces in full spaces. The stainless steel fitting should be utilized in spacious, vacant space to sterilize and preclude areas and surfaces from microbes, for example, bacteria, mold, and virus. It has also been seen to destroy three coronaviruses comparable to the SARS-CoV-2 through its identical outer envelope of protein. Instant start lamps deliver the ultimate in worth, continuous production, and prolonged existence.
Our system creates equal to 1000 times better obliteration than any further UV sources and is 1,000 times securer than UVC (254nm). It comes with an Instant-off ability with motion detectors. There is no physical contact required as the process is regulated by a room switch (utilizing a remote control). It produces high-level decontamination of room air and bare surfaces and destroys surface microbes that regularly affect healthcare settings. It is entirely safe for use on skin as contrasting to UVC, which can result in severe erythema. This is because it doesn't have mercury or any additional harmful chemicals inside.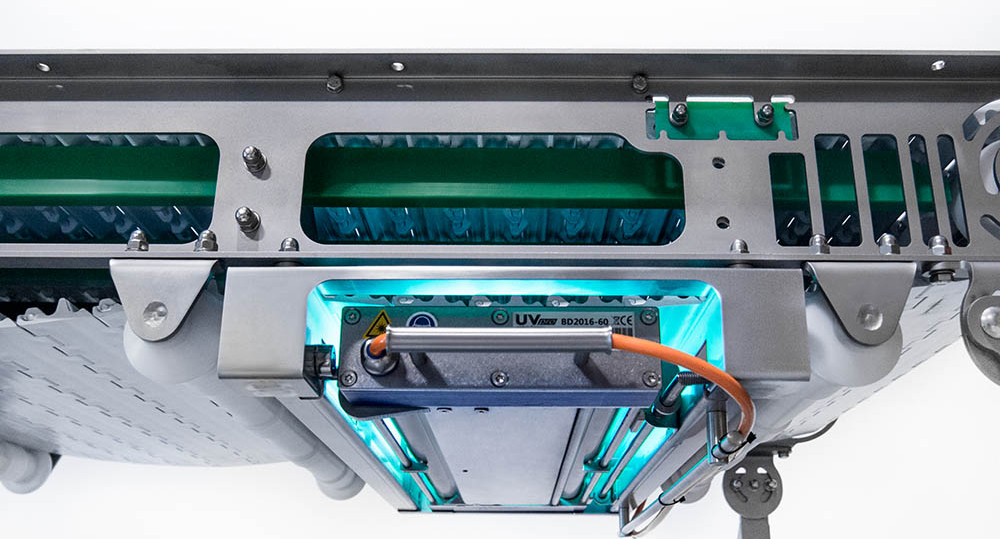 UVC Conveyor Belt Units
UVC conveyor belt units easily install over or beneath a present belt system. The units are very tough and appropriate for washing with warm water and even high-pressure cleaners. The long lifetime lamps guarantee low working expenditures. Installing a conveyer belt unit means no disruption in the procedure for washing halts; it decreases risks on cross-contamination, fewer chemicals are required for the disinfection procedure, and there are considerably low plate counts daily!
Portable end covers allow quick contact to height modification pins, which deliver flawlessly repeatable settings of lamp head to belt space. The system has a changeable spot end chute for amassing treated parts as they leave the conveyor. A digital rate meter precisely shows the conveyor's belt speediness in feet per minute, permitting for repeatable treatment time settings. An emergency stop button offers a speedy and harmless cessation of conveyors and lamps. The conveyor light chamber is completely hemmed in, protecting the worker from any UV light.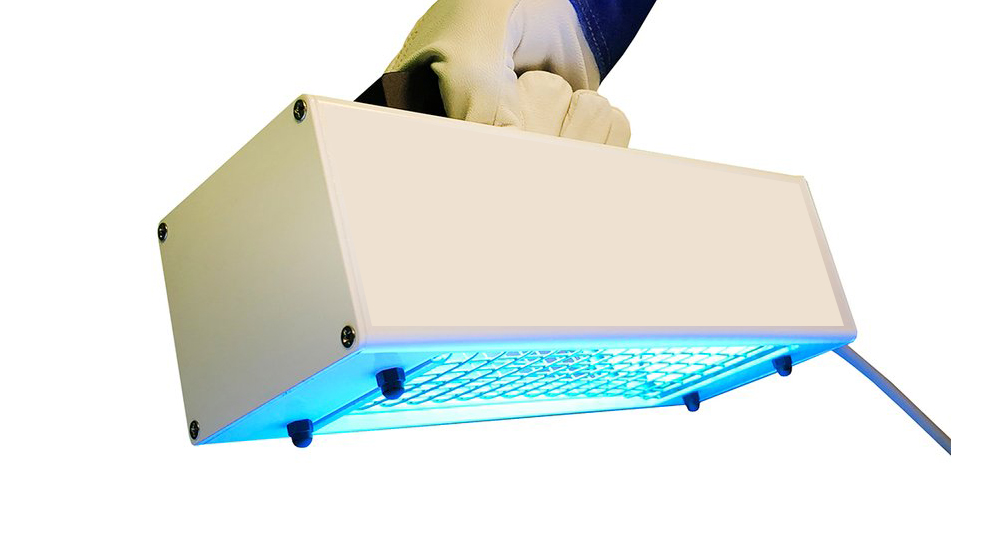 Handheld UV Sanitizers
High-touch area's can accumulate to over time. We touch our faces, countertops, food items, cutlery, door handles;  And as we do so, we reveal ourselves to numerous viruses and bacteria that can instigate disease and poor health. With our variety of UV surface sanitizers, we take superiority in giving you a solution to keep high-touch areas safe.  They have a dominant Ultra Violet (UV-C) illumination arrangement that eradicates equal to 99.9% of viruses, bacteria, germs, mold, dust mite eggs, and flea spawns on exteriors.
An inbuilt timer inside the device permits you to monitor the chosen quantity generating specific sanitation periods. There are no chemicals inside, appending an additional coating of security to you and no harmful deposit. Ultraviolet (UV) light decontamination is a deep-rooted technology for the treatment of air, water, and surfaces. UV technology has established additional applications in the food manufacturing chain since it is a cost-effective, operative, and multipurpose dry processing technique that can increase both food security and the protection of quality factors.
TRUST
YOUR SANITATION
TO OUR
EXPERTS